Casting Equipment
Henan Mega Aluminum Co.,ltd, introduce the world's leading casting equipment, including Gautschi furnace, ABB electromagnetic agitator, Snif aluminum melt on-line purification and degassing device, Novelis deep bed filtration, Wagstaff casting machine, EFR homogenizer, Vollert intelligent plane library, SMS-MEER milling machine, Moessner sawing machine and other equipment.


Hot Rolling Equipment
Hot rolling mill: Mega Aluminum introduced 4500mm 1+1+4 hot continuous rolling unit and 4500mm plate from SMS company of Germany, with the opening degree of 860 mm. The rolling force and the maximum rolling torque can meet all the production requirements of aviation plate and all the deformation aluminum required in various application fields alloy plate. It can provide the thickest hot continuous rolling strip, which has the special requirement of mass production of shipbuilding board and container board ability, has the extremely strong market competition ability. Introduction of two sets of 2650mm 1+5 hot continuous rolling units from Germany, all hot finishing mill stands with the patented CVC shape control technology of smark, the shape adjustment ability of the plate is the strongest in the world, which can provide the best heat of the plate shape rolling strip.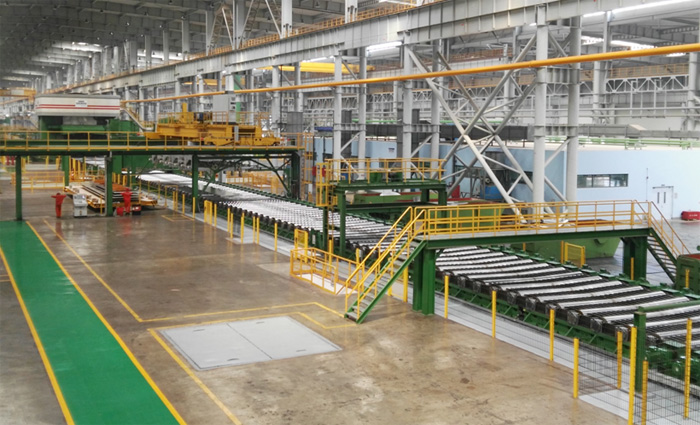 Roller grinder: the introduction of Italy Pomini company's roller grinder, has the most advanced, full set, efficient grinding roller management system.
Plate stretcher: the introduction of SMS MEER Germany 100MN and 40MN heavy tension stretcher, can be completely eliminated the residual stress generated after quenching of thick plates can provide wings for Boeing 787, A380, C919, ARJ21 and other large aircraft.

The introduction of SERMAS company's large plate sawing machine from France and SCHELLING company's precision saw from Austria can realize the high precision of products, and the absorption rate of debris can reach 99%.
The introduction of ultrasonic flaw detector from SCANMASTER company can achieve AA or AAA level flaw detection

Crosscutting unit: the world's widest thick plate crosscutting unit is introduced from GEORGE, which can produce the special requirements of Marine plate, refrigerator board and container board in large quantities, and has the unrivalled market competitive advantage.
PESMEL company introduced the full automatic plate packaging line, can be efficient, high-quality plate packaging


Cold Rolling Equipment

Mega Aluminum has introduced the world-class technology and equipment, and owns several simac CVC six-high single-stand cold rolling machines and two sets three stand cold tandem mill and one stand cold tandem mill, a full set of introduction of three-dimensional intelligent storage and transportation management system and coverage there are aluminum plate belt products of the finishing equipment.Including cutting edge line, tension and levelling line, air cushion heat treatment furnace, coating line and packaging line, etc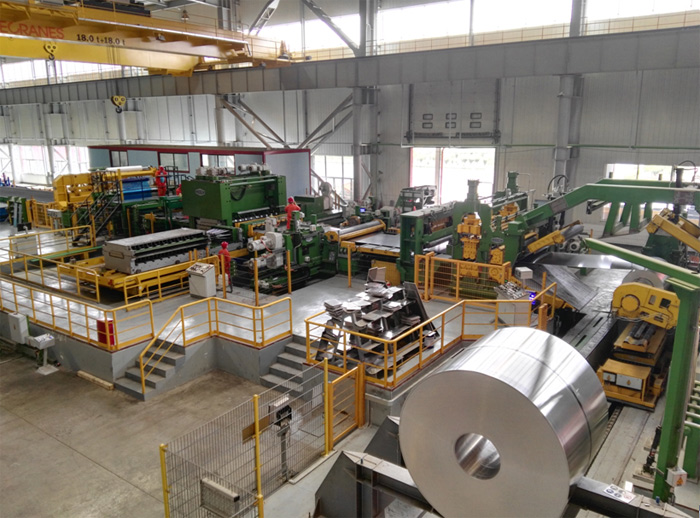 The machine adopts computer control technology to realize high automation and has the function of high speed edge cutting and rewinding.At the same time, the unit is also equipped with electrostatic coating and advanced online surface quality inspection equipment.
The stretching and bending straightening machine adopts computer automatic control technology, which can detect and display the elongation of strip in the process of stretching and bending and straightening.

GEORG crosscutting unit in Germany is equipped with dynamic parameter monitoring sensor, which can automatically control the whole program of the unit in real time.At the same time, it is equipped with plate semi-automatic packaging system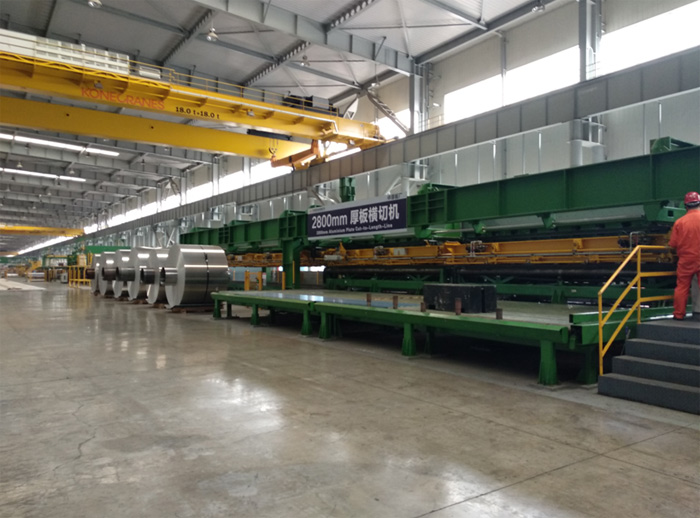 As a top aluminum sheet manufacturer and supplier, we strive for excellence in product quality. Our main products are 5 series and 6 series aluminum plates, such as:
5052 aluminum plate
,
5086 aluminum plate
,
5454 aluminum plate
,
6061 aluminum plate
and so on. If you have any questions, please feel free to contact us, our sales staff and technicians will provide you with a complete solution.